Spectrum Lighted Mirrors for Polaris General
This kit is ideal for your Polaris General. Our Bung mounts bolt to the side of the cage avoiding any issue with the non-tubular cage design. Mount for full doors available soon.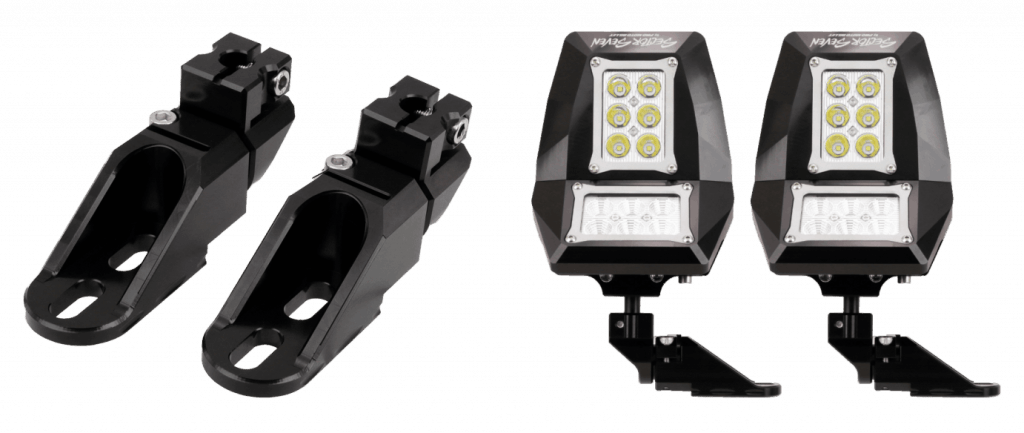 Frequently Asked Questions
Product Details
Product Specifications
Product Reviews
Product Details
Sector Seven Spectrum LED light mirrors will revolutionize the way you see the world, day and night! The ultimate upgrade to help you light up a 210-degree field of vision in front and convex mirrors for maximum rear view. CNC machined from 6061 billet aluminum for superior strength and toughness, with removable bezel that can be color coated. Adjustable break away action lets you determine arm strength, while the ball joint adjustable mirror enables adjustment without chance of vibration. With 180-degree rotation to assist in rear illumination, Spectrums are a versatile, superior light mirror combination. Navigating tight terrain has never been so easy!
Features
8,000 Raw lumens of light
Angular design provides 210-degree field of vision
Convex mirror for maximum rear view
2-wire open lead for easy wiring
Adjustable break away action
CNC Machined from 6061 billet aluminum
Removable bezel for color coating
Sold in pairs
Designed, manufactured, and assembled in the U.S.A.
Product Specifications
Product Reviews